Bar After 5 Pictures
When while TAD to Sasebo the After 5 was a regular hang
out for MOTU Seven and FTSCPAC in the past and SRF
Combat Systems C4I Division today. The After 5 was
originally owned and operated by Minako Owada who passed
away from cancer in the fall of 2002, her companion,
Nakamura san, now runs the bar.
MOTU Seven at the After 5
circa 1992. L-R George Quinata
Duane Wong, Kay Ikeda,
Jim Graslie, Minako, Dave Frank,
and Fred Buckley.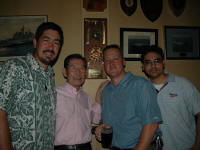 The After 5 was remodeled
in the late '90's. This picture
was taken in August 2005.
L-R Ed Mitchell, Nakamura san,
Chris Milne and Bob Abeyta.